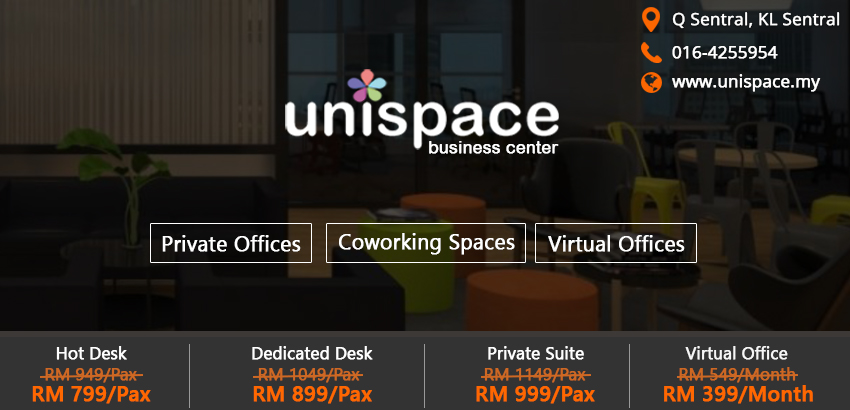 Adding yet another prime business location in Asia to its list, Unispace Business Center is now all set to extend its unmatched serviced office solutions to customers in Kuala Lumpur. Located in the 21st level of the stunning MSC status labeled Q Sentral building -right in the heart of KL Sentral- it symbolizes the 21st century coworking and serviced office spaces. With an impressive history of customer satisfaction and a forward-looking vision, it was only a matter of time that Unispace opened its doors to a vibrant shared working environment in the Malaysian Capital.
With official announcements of its launch on July the 15th 2018, and offers on early bookings of hot desk, dedicated desk, private suite and virtual office services, it has definitely grabbed the attention of entrepreneurs and working professionals across the business spectrum.
Unispace started in 2013 with a committed undertaking that it would not only keep on promoting a healthy and productive working culture but also redefine the very idea and image of workspaces. The objective of growing together with working professionals, startups and SMEs also was a part of that journey. Since then it has been an overwhelmingly successful ride for the brand. City after city, and now crossing international borders, it has been able to form a collaborative web of collective businesses where people share ideas to reap success and celebrate together. Supported by the customized infrastructural facilities in an energetic and inspiring coworking space from Unispace, it is nothing more than normal that businesses set new benchmarks for themselves.
Freelancers, digital nomads, regular and seasonal telecommuters, Startups, SMEs, established businesses, consulting firms, corporate trainers, offshore companies looking for a local presence, and homegrown firms in need for a business address that want to work in an ambiance which offers a fresh feeling and inspiring vibes can now make early bookings to save on pocket and invest in projects.
Hot Desk || Dedicated Desk || Private Suite || Virtual Office
Ready to use office space with superior infrastructure
Right at the hotspot of the KL Sentral
Flexible and uncomplicated lease terms
Private offices for the much-required business privacy
Hire based conference or boardrooms for any time meetups or events
Made to order service packages that are budget friendly
Trusted professional services for the seamless business functioning
Greater business or job control
Amenities that you cannot do without, include: